I had heard a lot about Karachi Kanteen so planned to take a tour and see what it was all about.
The restaurant arrived in the Lahore food scene with a bang. Karachi Kanteen brought a name from the other side of the country and opened two branches at once in Lahore. All that and the word of mouth buzz was enough to make me want to try.
So one night, on my treat, I went there with my family. We were four people and we ordered their platters.
Since they offer Karachi specials, it was mostly Biryanis, Bihari botis, bun kebabs and roll parathas on their menu. The ambiance is nice but the moment you step in you feel like you're in a Sweet Tooth branch. The feel is pretty much the same, and it does not go well with the menu of the restaurant.
We ordered one beef bun kebab platter, a bihari boti roll platter, a beef kebab roll platter and a chicken boti roll platter.
The food was served in time and the bun kebab even came five minutes earlier than the rolls. Since we were all too hungry so we dug in. Three minutes into the meal and we all regretted our decision to come to this place.
The food was not even below average, it was abysmal.
Starting from the better of all dishes, the bun kebab platter. I say this was better but on a good day I wouldn't even like this one. If they claim they put beef in that bun I do not buy it. The meat was very smelly and the only overpowering taste was that of ketchup. The sides make no sense as that salad was the saddest thing on the plate. Even the chutney was not very good plus it looked like something else (do not want to say what but you get the clue).
Where is the kebab in this @ Karachi Kanteen?
So there was supposed to be a beef kebab in it but all there was, was some kind of smelly meat that tasted like feet.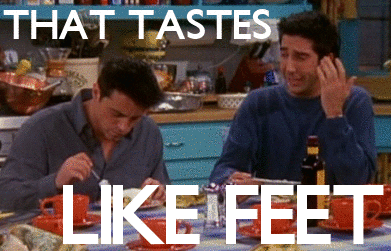 The sides here too were good for nothing. Even the fries were unsalted and bland.
So this was slightly better because the meat was not smelly. Karachi Kanteen really brought our own standards low.
These guys really need to come up with better sides though. The portion is already too small and with watery raitas and sad salads like that you won't be full with one platter.
Took one bite of this one and had to just swallow it somehow. I understand Phoebe's reaction because mine was the same: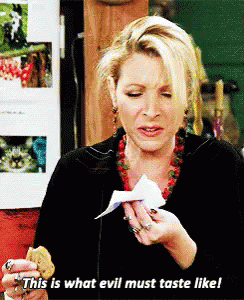 I am a staunch believer that food should not be wasted. Every time there is some food left, I get it packed or ask the restaurant waiters to not waste the food and eat it.
Karachi Kanteen made me change that on this particular day. None of the food items on those plates were finished. In the end, we just drank water and the fresh lime and kaala namak we had ordered. It was a very disappointing experience and I am never going back to this place.
Rating: 2/10